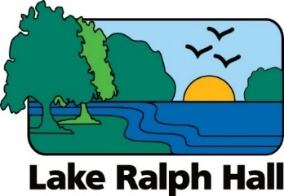 Upper Trinity Regional Water District (UTRWD) is in the final stages of the permitting process for the Proposed Lake Ralph Hall and anticipates beginning construction Mid-2020. As the permitting phase is winding down, UTRWD's focus is moving toward designing and building this critical water supply project that includes:
The proposed Leon Hurse Dam
Relocation of SH 34 and FM 1550
Fannin County road relocation/ abandonment
Clearing and demolition within the reservoir area
Stream mitigation
Raw water pump station
Raw water pipeline
Balancing reservoir
Reservoir support facilities
UTRWD will host a Project Update and Program Delivery Strategy Briefing on the date, time and place listed above. Interested members of the consulting engineering, architectural, and construction industry are invited. Due to seating limitations at the venue, each firm is requested to limit its attendees to two individuals.
Please refer any questions to and register in advance for this event with:
Rae Langston
Upper Trinity Regional Water District
972 219 1228
rlangston@utrwd.com