We hold meetings every (X) months. Join the committee to participate, network, and learn more about the world of biosolids!
What are Biosolids?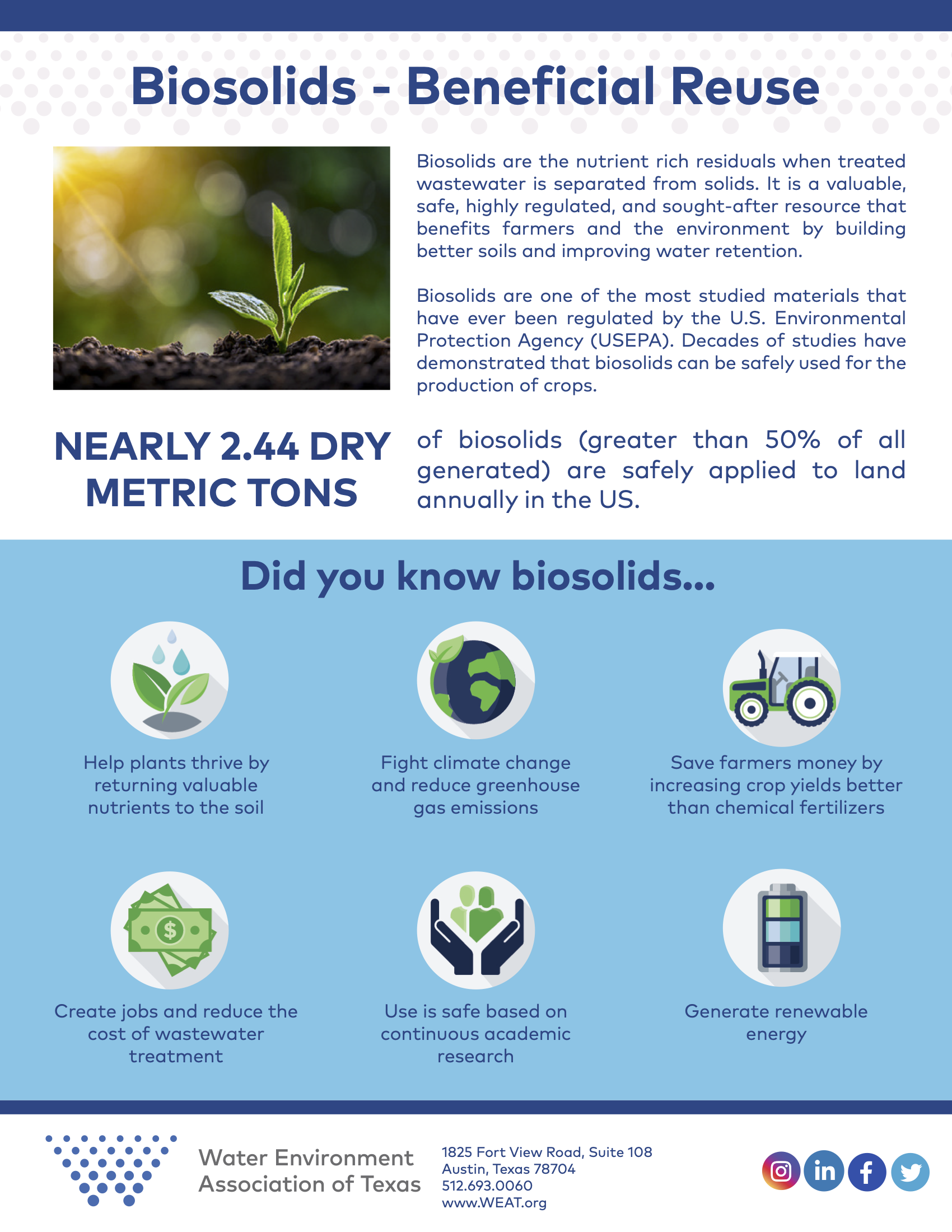 Download Fact Sheet!
Biosolids Management Information and Events
The Water Environment Federation has recently completed a new Biosolids Communications Toolkit!
The comprehensive toolkit is a resource for communicating about biosolids in ways that are factual, science-based, and easily understandable by those who might be hearing about biosolids for the first time. The toolkit includes guidance on some of the more challenging communication tasks you may encounter—responding to, or proactively pursuing media coverage, handling concerns raised about the safety of biosolids, creating presentations for use at events or meetings with the public, and developing content to post online or on social media. The toolkit features messages that serve as an overall umbrella that can be adapted for FAQs, talking points, community meetings, fact sheets, brochures, social media, and websites.
Content for Committee Members Only
Login Required
These resources are only available to logged-in WEAT members.
WEAT Ronald B. Sieger Biosolids Management Award
The WEAT Ronald B. Sieger Biosolids Management Award recognizes a WEAT member, an engineering firm, a specific project, a municipality, or a specific municipal or industrial facility that has made significant accomplishments in the field of biosolids technology and management practices within the boundaries of the State of Texas.
Recent Award Recipients:
2021 - Tad Eaton
2020 - Sherri van der Wege
2019 - David Galindo
2018 - Temple-Belton Wastewater Plant Biosolids Program, BRA
2017 - City of Denton Dyno Dirt