About Imagine a Day Without Water
Imagine a Day Without Water is a national education campaign that brings together diverse stakeholders to highlight how water is essential, invaluable, and in need of investment. This year, the day of action will take place on October 20, 2022, and will include events, resolutions, student contests, social media engagement, and more, all across the country.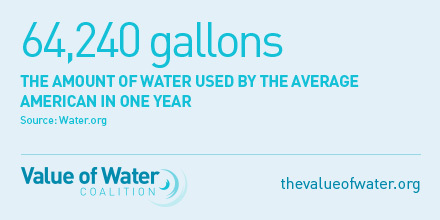 Water is essential
Water is essential for everything we do in life. We need water to make a cup of coffee, fight fires, build bridges, and swim on a summer day. We need water to grow strawberries, manufacture blue jeans, and make life-saving medicines. From agriculture to manufacturing, most sectors of our economy rely on water. Without water, our economy would grind to a halt. While nature provides water, it takes pipes, pumps, equipment, and people working 24/7 to deliver clean water to homes and businesses and then remove and treat wastewater so it can safely be reused or returned to the environment. Water infrastructure is largely invisible. Because it's out of sight, it's out of mind for most people.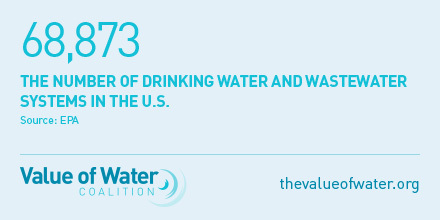 After working around the clock for 100 years or more, water and wastewater infrastructure is aging and failing. These systems were built in the early 20th century for communities that looked completely different than today. With a growing national population and finite water supplies, long-term water supply challenges must be addressed with new and creative strategies that meet current and future needs.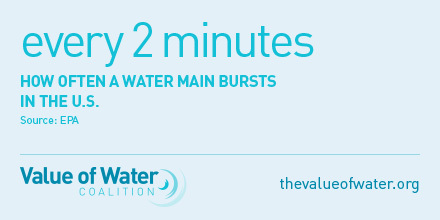 While conservation is critical, we also need innovative water management strategies to respond to the unprecedented water challenges facing communities all across the country. Investments can support a wide range of innovations, including resource recovery, reuse, and diversification of local water supplies.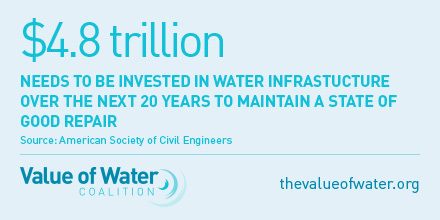 Water providers are economic anchors, frontline environmental stewards, good community partners, and innovators. Water drives economic growth and competitiveness. Water protects public health, Water revitalizes neighborhoods, and supports community vitality. Water sustains our environment and makes us more resilient in the face of climate change. Water is life.
Additional Information