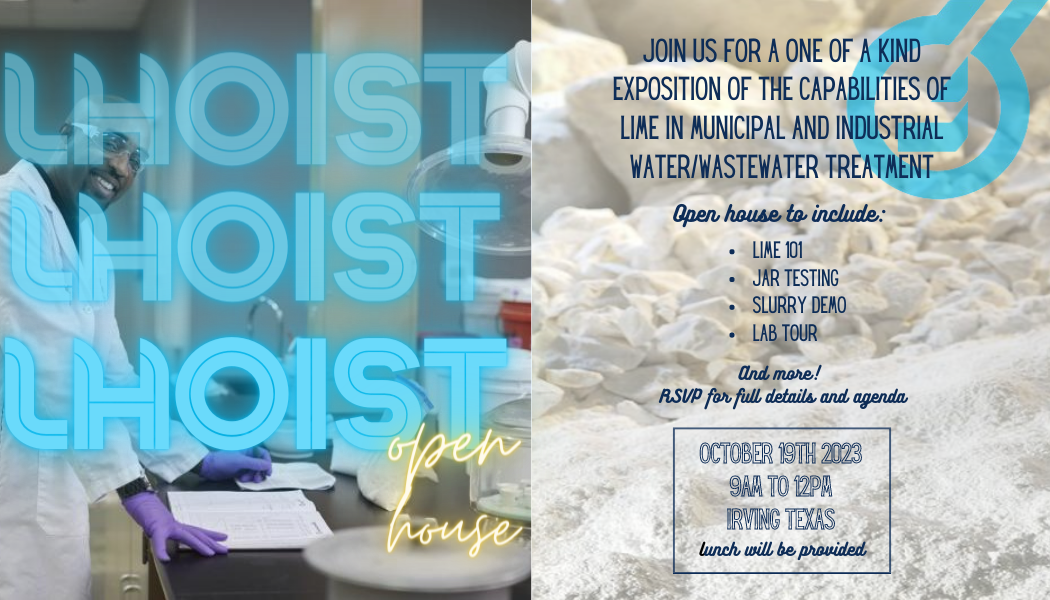 Join us for a unique presentation on lime's water quality applications. Registration for this limited-capacity event is open to all.
This event will be a one-of-a-kind exposition on the capabilities of lime use in both municipal and industrial water & wastewater treatment. Participants will experience live slaking and slurry demonstrations, learn of best practices of lime storage, mixing, pumping, and dosing; and visualize jar testing comparisons to highlight differences between lime vs. caustic soda vs. magnesium hydroxide.
Safety equipment required: closed toe shoes, pants, no contacts.
Agenda
Lime 101

Applications
Slurry types

Live slaking/slurry demonstration while discussing lime cycle

Wet Sieving Demo

Visually see particle size difference by screening a quicklime slurry and a hydrate slurry simultaneously
Discuss how particle size influences behavior of lime and the efficacy of a product

Best Practices

Lime storage, mixing, pumping, dosing etc.,

Water Testing

Jar testing

pH adjustment: caustic soda, magnesium hydroxide, hydrate slurry, and SLS45
Water softening
Wastewater

Live dissolution demonstrations to highlight lime vs. caustic soda vs. magnesium hydroxide

Lab Tour

High-level overview of lab capabilities
Equipment – demonstrate field trial equipment
Presenters: Debbie Ballard; Kirsten Ballard, Kevin Ingram, Hugues Lambert