February 2022 Highlights:
February 11th – The 66th Annual Alamo Regional Science Fair was held the weekend of February 11-13 with an awards ceremony on the 20th. Judges volunteered to review water-related projects for local WEAT special awards and determine project eligibility to compete for the U.S. Stockholm Junior Water Prize. The fair took place virtually for the second year in a row. Dennis Laskowski helped coordinate the event with Rebekah Cramblitt, Jacqueline McMahon, Vicente Garza, and Simone King serving as judges in this year's event.

February 17th – The monthly TAWWA/WEAT hybrid virtual and in-person chapter meeting met at SAWS to hear a presentation on TAWWA Small System Division. The presentation was given by Steven Walden of Steven Walden Consulting. Cleary Zimmermann Engineers served as the meeting's sponsor.

February 18th – The annual Project Management Seminar was held at the San Antonio River Authority.

February 18th - The Project Management Seminar Happy Hour was sponsored by MGC Contractors and DBIA Southwest chapter.

February 19th — The 26th annual Basura Bash took place in San Antonio on February 19th. Roughly 40 participants from our local TAWWA/WEAT joint chapter worked together cleaning up the area along Olmos Creek. The group was captained by Progga Chirontoni and Tate Coker. This year's event collected truck tires, facial masks, aluminum cans, plastic foam, cigarette butts, plastic bottles, and so forth. A couple of pictures from the day follow.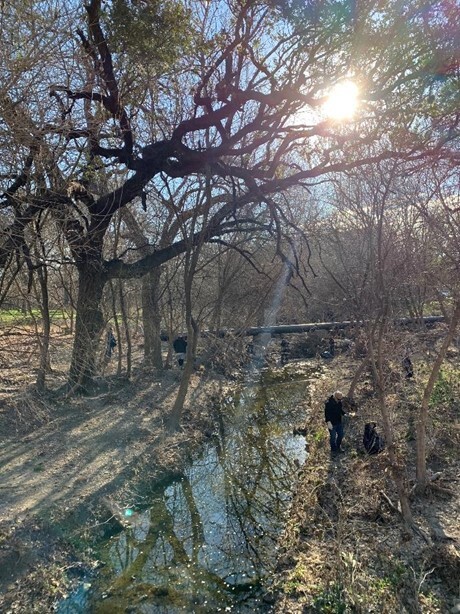 March 3rd – The annual Bingo for Bags event was held at the Aggie Park in San Antonio. Over $7k was raised for Water for People.